Why You Should Hire a Professional Electrician. Some tasks around the home make great DIY projects, but others are best left to the professionals. So while it may be tempting to tackle seemingly minor electrical repairs yourself, there are valid reasons you should enlist the help of a trained technician instead.
When handled incorrectly, amateur efforts to solve electrical issues may only create larger, more expensive problems to fix in the long run and, most importantly, can place the safety of your family and property at risk. So when should you call a professional electrician? Here are a few common problems that require the services of a licensed electrical technician:
LIGHTING REPAIRS AND INSTALLATIONS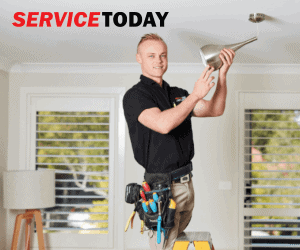 Why You Should Hire a Professional Electrician
If you are experiencing flickering lights in your home, never assume that the issue will be solved by simply replacing the bulb. The flickering could be an indication of faulty wiring or a disruption to the flow of electricity. A licensed electrician is adequately trained and qualified to conduct a thorough investigation, in order to isolate and determine the exact cause of the problem, then complete repairs required to solve the issue and avoid a potentially hazardous situation.
All our Service Today Electricians are experienced lighting experts. If you have faulty lights to repair or wish to add new lighting to brighten up your home, save the hassle of taking on the task yourself. When it comes to installing, repairing or removing light fixtures and wiring, there is a lot that can go wrong with DIY light installation – from a light that doesn't function through to sparking an electrical fire. Don't put your home and family at risk; let a licensed technician use their expertise in the field and complete the job safely and accurately.
POWER POINTS AND SWITCHES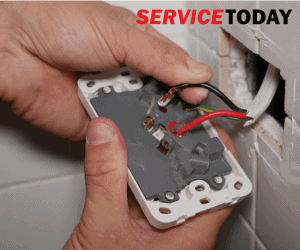 Why You Should Hire a Professional Electrician
Have you noticed certain power points in your home are warm or even hot to touch? Power outlets that heat up, discolour, give a mild shock, or have cracked to expose the wiring inside, are all indications there may be internal damage that should be examined by a professional electrician. Replacing a power point is no simple task, and the potential dangers associated with incorrect installation are simply not worth the risk.
If you are currently relying on a complex system of extension cords to accommodate all your appliances due to a lack of available power points, or running cables around skirting boards and under rugs, you should consider installing additional power points. Ideally there should be a dedicated power point for each regularly used appliance. However, don't attempt any electrical outlet wiring on your own; installing or replacing any outlet is a job that should only be completed by a professional electrician. Without sufficient training, there is complex wiring involved that can easily go wrong and potentially create an extreme fire risk to your property and its occupants. For safety reasons, it is important that you leave any electrical installations to the professionals.
TRIPPING CIRCUIT BREAKERS
Does switching on an appliance in your home cause the power to cut out? Some modern appliances have high energy demands, causing a surge of electricity when they are running. If your fuses are blowing frequently or you find that your circuit breaker is tripping often, you should contact a professional electrical contractor near you to inspect the wiring in your home ASAP. One possible explanation could be circuit overload, when the electrical demand placed on your system is more than it can handle. In this situation, a professional electrician can create additional circuits to accommodate the number of appliances running in your home and ensure your current power board is up to date and adequate for the size of your household.
FAULTY WIRING
Damaged, frayed or faulty wiring poses a serious threat to the safety of your household. We recommend avoiding any short-term DIY solutions – instead contact an emergency electrician to attend your property and assess the damage. If neglected, faulty wiring can lead to serious hazards such as electrocution and the risk of an electrical fire. Don't leave anything to chance, have your local electrician promptly carry out any electrical maintenance for your own peace of mind.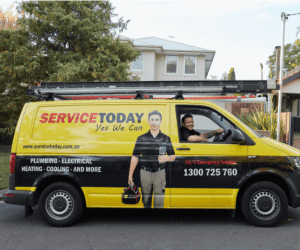 Why You Should Hire a Professional Electrician
Equipped with the correct tools and training, licensed technicians are able to provide the electrical services required to keep your home safe. If there are any concerns related to electricity in your home, don't put the safety of your household at risk. The experienced electricians at Service Today are experts in their field, undergoing extensive training to be able to provide the best quality service and electrical safety tips to our customers. For quality electrical assistance, advice and other services like plumbing in Bossley Park, call Service Today now on 1800 859 383 or book online for 24/7 service you can rely on.