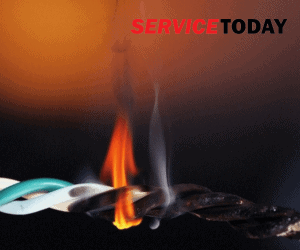 There can be many common causes behind an electrical fire. Before looking at the different factors that could lead to these fires and how to avoid them, it's important to understand exactly what an electrical fire is.
ABOUT ELECTRICAL FIRES & HOW THEY OCCUR
An electrical fire begins with overloaded, hot, sparking wires and old electrical fittings. Electrical wiring passes throughout your property, often alongside or bordering timber supports. Any circuit can become extremely hot and breakdown if it is damaged or overloaded. If the circuit protection device doesn't sense this and doesn't cut off the electricity immediately, a fire can occur. Since most electrical wiring is hidden behind walls and cabinetry, you may not even realise a fire has broken out. By the time you notice that smoke is coming through vents or outlets, a substantial amount of damage may have already been done and this can cause an even greater risk if the fire breaks out at night when everyone is asleep. Don't ever try to solve the electrical problem by yourself, immediately call a nearby electrician for reliable electrical services.
COMMON CAUSES OF ELECTRICAL FIRES:
1. INCORRECT USE OF EXTENSION CORDS
The incorrect practice of using extension cords as a permanent attachment to plug in electrical devices and appliances; extension cords aren't made to endure the loads these power-hungry devices need. Connecting multiple electrical cords or using them under carpet or furniture can create a hazard, as signs of wear and tear can go unnoticed and exposed or damaged wiring have the potential to cause a fire.
2. LIGHT BULBS AREN'T COMPATIBLE WITH FIXTURES
The use of high wattage light bulbs in fixtures that is not compatible. Using incorrect bulbs can result in accumulation of heat in the wiring, causing it to melt and can consequently lead to a fire being ignited.
3. DEFECTIVE, OLD EQUIPMENT AND APPLIANCES
This includes appliances like refrigerators, washing machines, dishwashers, dryers, microwaves and electrical fixtures such as outlets and light switches. If these appliances have been used for many years, they may have become old, frayed and can pose a possible fire risk.
HOW TO PREVENT ELECTRICAL FIRES
Here are some crucial steps you should take to help ensure the prevention of electrical fires in your home:
Electrical wiring inspection should be performed annually on your property, including all electrical systems. A licensed electrician with adequate experience can easily identify problems in the system beforehand and provide the right fix, before they turn into a major electrical hazard.
Make sure that the main electrical panel is upgraded and properly rated; otherwise it may not succeed in detecting overloads and protecting your property from an electrical fire.
Regularly check your property's extension cords, electrical equipment, appliances and other fixtures for signs of wear and tear.
If you're unsure about anything, your safest option is to call an experienced electrician to check and fix any electrical installations as needed. An expert electrician can easily detect areas requiring electrical upgrades and carry out the necessary work to keep your system up-to-date.
If you have any queries about the electrical services that we offer, feel free to call us at Service Today on 1300 859 383, and we'll be more than happy to assist you.