In summer, it's hard to remember how freezing your home gets during the coldest months of the year. In Sydney, Melbourne or Adelaide, homes often rely on a single heat source and that can leave parts of your house feeling distinctly chilly during the winter months. 
If you're considering building a new home or are just simply adding gas heating to your existing home, this article is perfect for you. Here are the 6 things you need to know about gas heating and your home.
1. Gas Heating heats your whole home 
It may seem a little obvious but gas heating really does warm your whole home. From bathrooms to bedrooms and of course the living areas, adding a gas heating system to your home ensures every room is warm, whatever the temperature outside. Heating your whole home achieves the same results as increasing the size of your house. 
Instead of your family fighting for the one seat that's the perfect distance from your fire, with gas heating everyone can be comfortable. Gas heating also removes the cold corners of your home. 
Cold bathrooms and struggling to leave the warmth of your bed on winter mornings could become distant memories. Your whole family can enjoy their favourite part of the house in comfort again.
2. There is more than one type of gas heating 
Like all technologies, Gas heating is constantly evolving to become more efficient at heating your home. Service Today offers two types of gas heating system.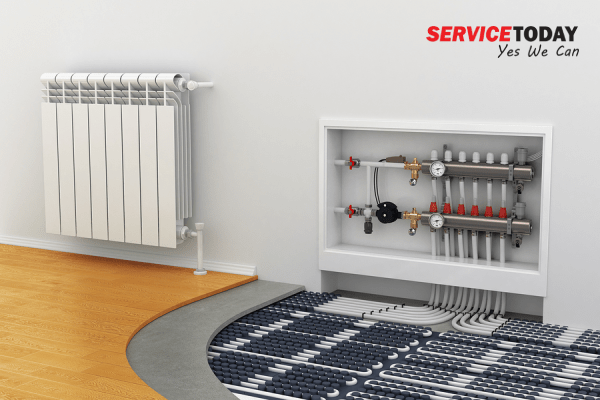 Things to Know About Your Gas Heating System This Winter
Warm air gas heating uses a system of ducts and vents to circulate warm air throughout your home. Ducts can be installed in your ceiling or floors depending on the set up of your home. Each duct is connected to a system of diffusers that blow warm air around your home, raising the temperature in every room. Warm air gas heating can be a smart solution for homes that don't have space for radiators. 
Hot water (Hydronic) gas heating relies on hot water to warm your home. Hot water is moved around your home using a pipe and radiator network to heat every room to an optimal temperature. Room temperature can be adjusted using thermostatic control. Radiators are available in a wide range of traditional and modern styles and can either create a feature in a room or sit back and just add warmth. 
We also provide underfloor heating for new homes, with pipe circuits laid below the concrete floors to provide heat using the thermal mass of the slab as a heat diffuser.
3. Gas Heating is an efficient way to heat your home 
It is much more efficient to raise the temperature across your house with a heat source in every room than it is to use a single heat source to try and heat your whole home. Gas heating requires an upfront investment but once installed you have complete control of the temperature of your home. 
Gas heating can be switched on and off at the touch of a button, programmed with thermostatic controls to maintain a temperature across your home. And set to go on and off with a timer function that ensures you never need to wake up or come home to a cold house again.
4. Central Heating can run off a variety of energy sources 
Depending on the type of gas heating you choose it can connect to a range of energy sources. That makes it easy to adapt to your existing energy options. Or to consider more energy efficient scenarios such as gas, diesel, biomass, solar or geothermal. 
Things to Know About Your Gas Heating System This Winter
If you're building a new home, choosing a gas heating system allows you to match your energy source to the system for maximum efficiency. As long as your budget matches the cost, it's possible to find the right energy source to match your lifestyle choices and your heating requirements. 
Building a new house? Contact Service Today about gas heating and your new home. We can help you explore the options and enjoy the benefits of gas heating that's been designed to your needs.
5. How long is the gas heater installation process?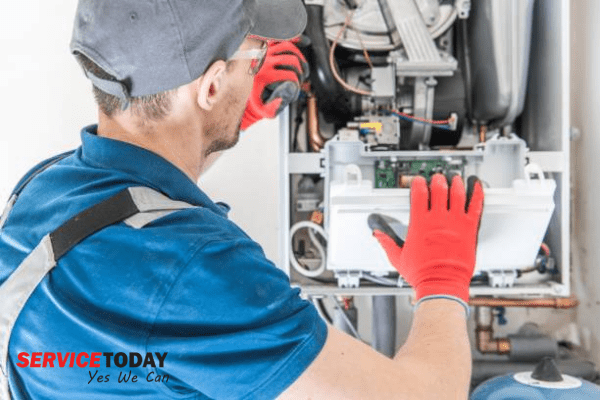 This can depend on a number of different factors, including the precise location of the brand-new unit. So, if your new gas heater is to be installed in the same place as the old one. For example, the process can take as little as one or two working days. 
Therefore, this can increase to three working days in instances where the location has to be changed. But it's rare for the installation of a new gas heating system to take any longer than this. It depends on your choice of heating systems and the components included).
6. Gas heating takes the effort out of heating your home 
With timer functions and thermostatic control, gas heating simply removes the effort from heating your home. You can simply 'set and forget' and know that your gas heating system will do the job for you. Therefore, maintenance is easy. Once installed, a regular check up from your gas heating technician will ensure that your system is working at maximum efficiency.
Why Choose Service Today?
On a final note, it's important that you work with an experienced and accredited-engineer to manage the installation process, as this safeguards your property and the investment that you've made. 
This is where Service Today can be worth their weight in gold, as we work in Sydney, Adelaide, Melbourne and the surrounding areas to provide high-quality gas heater installation services.  Hence, our expert plumbers and technicians are all registered and certified too. Whilst we work closely with all major gas heater brands to ensure that we install only the best products.
Therefore, we can help you match your energy preference to the most efficient gas heating system. And ensure your system is installed correctly and to the highest standards. Call us today on 1300 859 383 or fill in our online enquiry form to find out more about adding gas heating to your home.