From dripping taps to blocked toilets, inconvenient plumbing issues can present themselves in many different forms. Often, these problems can be prevented or minimised just by being aware in advance of the types of complications you could encounter. To help you out we've compiled a list of the 7 most common plumbing issues you'll find in your home, that our technicians are frequently called out to fix; you can learn more about each of them below.
Dripping Taps:
A steadily dripping tap is not only annoying, it can also result in a far more expensive water bill than predicted.  Read energy saving guide here. A single dripping tap can waste hundreds of litres of water per year! Often, the cause of the constant drip can be put down to a washer becoming worn or dislodged. In this case, simply having the washer replaced will most likely fix the problem. But if you are not familiar with the processes involved it can be worth enlisting the help of your local plumber; this way you can rest assured that any repairs have been carried out accurately and professionally. If your taps are old, you may consider having your plumber replace them altogether.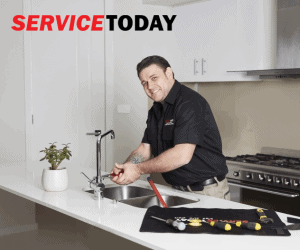 Slow Draining Sinks:
A slowly draining sink is one telltale sign that you may be dealing with a blocked drain. Foreign particles that build up in a drain over time can restrict water flow, causing all sorts of problems if not dealt with in time. Kitchen sinks commonly become clogged by food scraps and fats that accumulate over a period of time, whilst in the bathroom our plumbing technicians often find sinks blocked by a combination of hair, toothpaste and soap. Some DIY methods to unblock a drain can be found here, but if these prove ineffective it may be best to contact your local plumber – who can carry out a professional investigation and drain cleaning service to solve the problem.
Blocked Toilets:
One of the more inconvenient plumbing related issues to occur at home, a blocked toilet is usually the result of an obstruction located somewhere in the pipe. This type of drain blockage is commonly caused by items that have been flushed down the toilet; including sanitary products, wet wipes, cotton balls and other foreign objects. The obstruction can often be removed with the help of a plunger, but sometimes more advanced technology such as CCTV drain cameras are required in particularly problematic cases. Our Service Today plumbing technicians always carry the necessary equipment required to accurately locate any blockages, and fix your clogged toilet once and for all.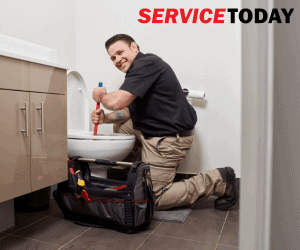 Hot Water Problems:
There are a number of reasons you may come across issues with the hot water supply in your home. Here is what to do when  your hot water system leaking from top or bottom.  Over time, it is common for hot water systems to experience problems or even break down – but it is imperative that any hot water heater service is carried out by a licensed professional, as there too much room for error when this type of repair work is attempted without the correct training. Different issues could be at play depending on whether your home is powered by a gas or electric hot water system, but you can be confident that our Service Today plumbing and electrical service has always got you covered.
Low Water Pressure:
Few things are more frustrating than a weak trickle of water dripping from your taps or shower head, but this common plumbing issue probably occurs more frequently than you realise. The cause of the problem could be as simple as an aerator on a tap that needs to be cleaned or replaced, or a more serious issue such as a leaking or burst pipe. You can read more about the most common causes of weak water pressure and how to fix it here.
Leaking or Burst Pipes:
A leaking pipe that is ignored or neglected can create havoc further down the track, with the potential to cause flooding and extensive damage to property and possessions. Signs you may have a leak in your pipes include:
Dampness or discolouration of carpet; particularly in areas surrounding bathrooms, laundries and kitchens
Discolouration and/or strange marks on ceilings
Damp and musty smells in the house
Signs of water and/or dampness anywhere, such as in or around light fittings in ceilings
Flakey or scaly paint on walls and ceilings
Poor water pressure
Hissing sound behind walls
Leaks can occur in any pipes around the home, but more often than not they can be an easy fix by a licensed plumber. It is important to note that pipes can burst in an instant; so if you suspect a leak, we highly recommend that you contact your local plumbing expert ASAP to carry out a thorough inspection and complete any necessary repairs.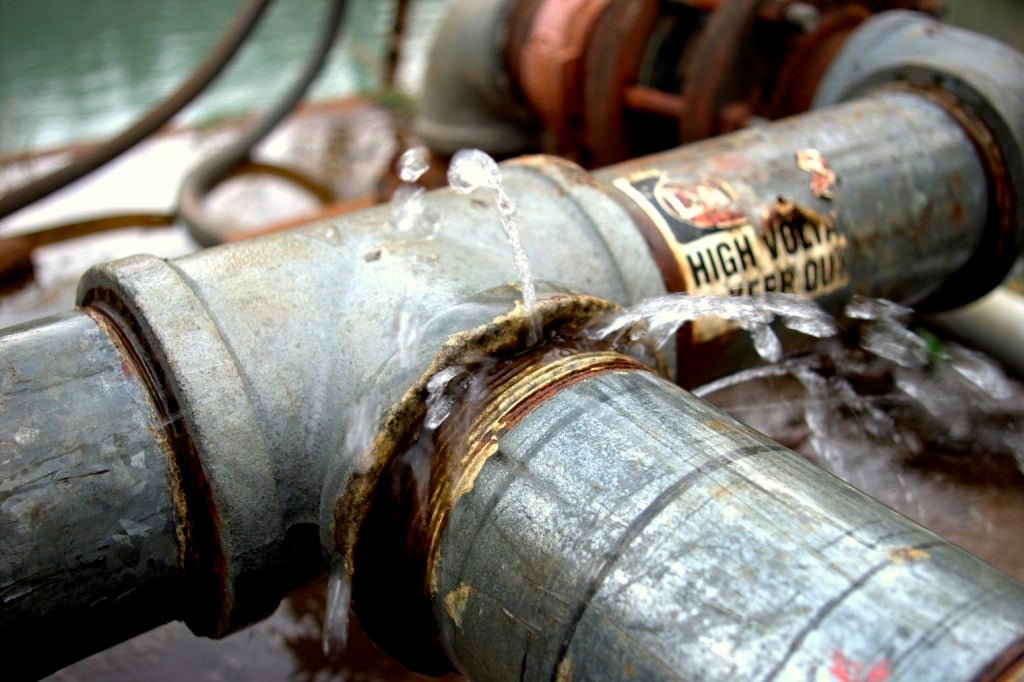 Gas Leaks
By far one of the most dangerous plumbing issues, a gas leak requires urgent attention. Gas leaks can lead to fires or even explosions and, if undetected, can cause carbon monoxide poisoning. These leaks are usually identified by their unpleasant smell, or a hissing noise heard near a gas line or appliance. If you suspect there is a gas leak on your property, you must call a local qualified plumber immediately to attend to the situation. Only a licensed gas plumber should undertake any work involving gas.
Should any plumbing issues arise in your home, never hesitate to get in touch with the expert plumbing technicians at Service Today. We are a 24/7 service provider, meaning that no matter the time or day – we will make your emergency plumbing issue our priority, in every instance. Call us anytime on 1300 859 383 or book online to have one of our expert plumbers attend to any of your plumbing problems, big or small.