I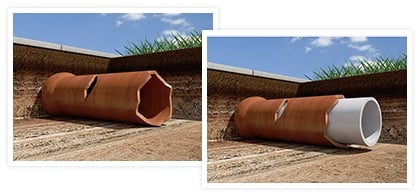 T'S ALL IN THE PIPE RELINING
Replacing damaged pipes has the potential to be a disruptive, damaging and costly process for your property. Thankfully, Service Today can offer you an easy, fast and extremely reliable alternative for repairing damaged pipes without the need to excavate.
Pipe Relining Process
Pipe relining is the non-disruptive process of repairing your broken pipes from the inside out. Without the need to excavate your property, Service Today can fix your damaged pipes by inserting a strong resin liner into the broken or damaged section of pipe. Using compressed air, the liner is forced to the sides where it conforms to the shape of the pipe, thereby creating a new pipe within. If you only have a small section of damaged pipe – no problem, we'll just repair that particular area.
Fixing Damaged Pipes
If you have trees on your property, there's a good chance that some roots have invaded your pipes. Commonly, people tend to put off calling a plumber under the mistaken belief that fixing their damaged pipes is going to involve a costly, disruptive process. While this type of fix is sometimes inevitable, most of the time Service Today can repair your damaged pipes using our revolutionary pipe relining technique. Whether your damaged pipes are in your garden or under your driveway, pipe relining may well be the magic fix you're looking for.
Timing The Task
Conventional pipe repair is a lengthy and difficult process, during which your pipes are unusable. Pipe relining has redefined this process, providing solutions within hours instead of days or even weeks. When our qualified Service Today technicians have finished working on your pipes, you can get back to using your kitchen sink or taking a bath.
Fixing damaged pipes doesn't have to mean digging up your property. If you've got tree troubles or leaking pipes, you can rest assured that there's a no-fuss, no-dig solution. Contact our Service Today's Plumber in Sydney to arrange a visit with our pipe relining crew.