It's safe to say that inside many Australian homes is a "To-Do" list of maintenance jobs to tackle. It's also probably safe to say that most of us feel like this list is never-ending. So why is it, when we finally find time to get cracking on our never-ending list, the sky opens up and rain soaks through our big day of DIY plans? If you can relate – never fear. Here are a few reasonably simple home maintenance jobs you can complete, even when it's bucketing down outside!
Check and Replace Batteries in Smoke Alarms & Carbon Monoxide Alarms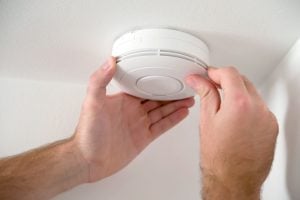 One of the simplest but most important jobs to add to your list is an annual check of your smoke alarms and carbon monoxide detectors. We recommend making a habit of checking these when daylight savings ends, as an easy way to remember this potentially life-saving task each year. Test to see if your alarms are working and replace any batteries as required. Whilst you're up there, check that your detectors are secure, clean, and free from any obstruction. 
Do you have a gas heater operating inside your home during the winter months? If you don't currently have carbon monoxide detectors installed, you may want to look into this simple installation that can help save lives. To learn more, click here.
If you're unsure how to go about giving your smoke alarm or carbon monoxide detectors a thorough check, our Service Today technicians are more than happy to assist. We will ensure that your alarms are fully functional; doing their job to keep you and your family safe. Simply give us a call or book online today!
Check for Cracks & Gaps in Doors and Windows

Did you know that up to 25% of heat loss from existing houses is caused by air leakage (also known as draughts)? With cooler months just around the corner, fixing any cracks and gaps around the house now could be a worthwhile way to spend your next rainy day! Draught-proofing is important for helping to retain heat inside your home, and can assist with energy efficiency and reducing power bills in the long run. Just remember that if you are operating unflued gas heaters or open fires in your home, for health and safety reasons you do need to allow for adequate ventilation.
Spruce Up Your Lighting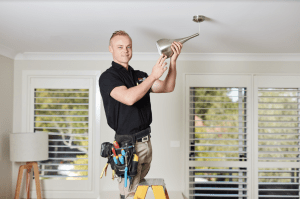 Whilst you're circling your home looking for odd jobs to do on a rainy day, remember to look up! Depending on the lighting you currently have installed in your home, you might consider switching to more energy-efficient options. You'll thank yourself when your next electricity bill arrives!
Better still, why not take the opportunity to make an even bigger impact by changing up your lighting fixtures. A new fixture can completely change the look and feel of a room – however, regulations in certain states require you to have a licensed electrician complete this task. Should you get stuck and need the help of a professional, our Service Today electricians are experts in all things lighting!
Give Your Ceiling Fans a Thorough Clean
Whilst you're glancing upwards, remember to check out your ceiling fans! If you can't recall the last time you gave your fans a thorough clean, it's likely that this is well overdue. A scary amount of dust can gather and hide on the tops of fan blades, so it's important to give these a good clean. And whilst you're up there, take note of the reverse switch, which is often located either on the body of the fan or on the remote. As the weather begins to cool over the next few months, remember to switch your fans to run clockwise – this means they will work with your heating system to help effectively distribute heat around the room.
Show Your Kitchen, Bathroom, and Laundry Some Love
If you're stuck inside for a few rainy days, why not take the opportunity to give your kitchen, bathroom, and laundry some TLC? Leaks, faulty fittings and grout that has worn away are some of the most common jobs to sit untouched on the old "To-Do" list. So why not have a crack at some of these on your next day off, and finally cross some items off:
Thoroughly inspect and clean the grout between your kitchen and bathroom tiles, repairing as needed.

Check all your taps for leaks, replacing any washers and cleaning the aerators as required.

Inspect the caulking around your shower and/or bathtub, and repair if necessary.

Remove the showerhead and thoroughly clean to remove any sediment build-up.

If you have an uneven towel rail or toilet paper holder that hits a nerve everytime you glance at it, now is the time to fix it! Chances are it's an easy fix, such as a screw or anchor that needs correcting.

Give your dishwasher a deep clean by running specialised dishwashing cleaner through a cycle. This will clean out any built-up grease and limescale, and help your machine run more efficiently. Don't forget to give the exterior a good wipe-down as well, to help minimise corrosion.

Clean out your fridge, taking the time to check expiry dates on all those jars that so easily accumulate. Whilst you're at it, use it as an opportunity to defrost the freezer too.
Declutter Your Gutter
Finally, this is probably a job you shouldn't be doing ON a rainy day… but rather, in preparation for the rainy days to come. Leaves will soon begin to change colour and fall off the trees, with many finding their way into your gutters. This can cause major headaches, as a build-up of leaves and other debris can cause your gutters to block and back up – leading to potential water damage. So it's a gutterly-good idea to get on top of this early, and clear your gutters before the rain sweeps in. 
Always ensure that you have a sturdy ladder to support you, as you scoop excess leaves and other debris from the gutters. Once cleared, wash your gutters down with a hose, checking for any leaks in the process. You may also want to think about installing gutter guards to make this job easier in the future. But if this all sounds a bit complicated or you're not a fan of heights, why not get the professionals to take care of it for you? Service Today offers expert roof and gutter services, and we can check your roof for any loose or broken tiles whilst we're up there. 
Have a go at some of these simple maintenance jobs the next time wet weather keeps you locked inside, and you'll have that list looking shorter in no time! As always – if you get stuck, the friendly team at Service Today is here to help. For expert advice or assistance with any of your plumbing, electrical, or heating and cooling needs, simply give us a call on 1300 859 383 or make an easy online booking today.