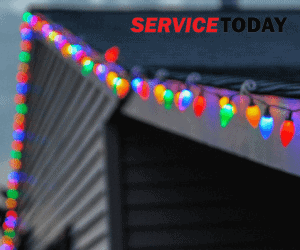 During December we see many homes and gardens across Australia decorated for the silly season. It can be easy to get swept up in the excitement of Christmas and end of year festivities and forget the importance of electrical safety- especially when it comes to Christmas lights. We have a few tips from our electricians to keep your home and your family safe during this period.
Before You Put The Lights Up
Inspect and test last years decorations before you reuse them. Cords can fray, and plugs can become loose, posing a hazard.
Check the Australian Government's product recall website for your lights. Here you will find any information about products that have been deemed not safe for use.
Unwind all cords fully before hanging to avoid overheating in certain places.
Try solar powered lights for outdoors. It is better for the environment and much easier to install, no cords or electricity to worry about.
Questions To Ask Yourself
Are your lights plugged into a powerpoint controlled by a safety switch? A safety switch is installed by a licensed electrician on your switchboard. It detects an imbalance of power in the current, instantly. Safety switches shut the power off if it surges, giving you peace of mind that your home is safe. To find out more about safety switches in your home, contact a licensed electrician.
Are you using indoor lights indoor and outdoor lights outdoors? Always follow manufacturer's recommendations.
During December
Double check that your smoke alarm is working correctly. In case of a fire, you want to be sure that you will be alerted as quickly as possible.
Always turn outdoor lights off during rain or storms.
Keep your cords away from pools, powerlines, driveways, and walkways.
Never overload powerpoints. During the festive season, with extra lights plugged into extension cords and power boards, the danger of fires is even higher.
Contact a licensed electrician to install an additional powerpoint, or perhaps consider an outdoor powerpoint to make lights decorating outdoors easier and safer.
On behalf of the whole team at Service Today, we wish all our customers a happy and safe Christmas and New Year! We urge all of those who have decorated their homes this year to be aware take care around electricity.
Service Today technicians available all the way through this festive season so you can enjoy Christmas without worrying about any plumbing, electrical, heating or cooling breakdowns. Contact us 24/7 or book online.