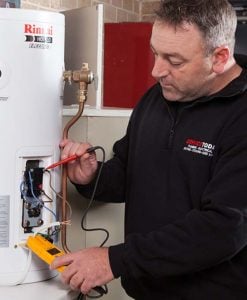 Steve is a Senior Maintenance Plumber with over 10 years experience working across fault finding, emergency hot water repairs and hot water heater installation in Revesby. Throughout his decade of plumbing, he's seen his fair share of major and minor hot water emergencies. This month, our customer service team asked Steve for his tips for keeping you in hot water.
What's your top tip for dealing with a hot water emergency?
Hot water tanks are never something you should try and fix yourself. Hot water tanks are usually filled with large amounts of boiling water and depending on your system, may be connected to your electrical mains. The golden rule when it comes to hot water is 'unless you're qualified to repair it, don't'.
What happens if my tank bursts at 2am?
It's impossible to predict when an accident is going to happen. The best thing to do is keep calm, make sure that no one is in danger and call an emergency plumber. When it comes to pipes, time usually means the difference between a small leak and a major disaster. The Service Today team are on call 24/7 to take on all sorts of plumbing emergencies, it's just part of the job.
What can do while I'm waiting for an emergency plumber?
From the outside, it might look like a simple fix but hot water systems are complex and can be potentially dangerous. If you've got a gas hot water system, you can start by turning the gas off. If your hot water system is electric, you can switch the system off at the switchboard until an emergency plumber gets there.
Is there anything I can do to prevent a hot water emergency?
Hot water tanks tend to be an 'out of sight, out of mind' part of the home and we only really pay attention to them when they're not working. What most people don't realise is that over time, calcium  starts to build up and can cause all sorts of problems with the tank. Like most appliances, they don't last forever but replacing the valves and flushing out the tank every 5 years can prolong the life of the tank and help to avoid hot water emergencies.
Service Today's plumbers have been taking care of Revesby households for many years and our team prides themselves in delivering fast, honest and reliable service. If you find yourself in hot water at any time of day or night, give the Service Today team a call. We won't rest until you do.