In many homes, the ducted heated system is a lifesaver during Winter. But did you know that over time dust that settles inside your ducts can lead to bad odours, breathing difficulties and allergies?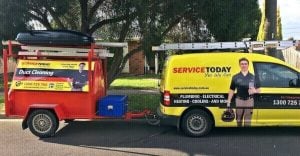 The most important step to properly maintaining your ducted heating system is duct cleaning. Regular, comprehensive duct cleaning allows you to benefit from top quality air and system efficiency for years. It can also help to extend- or even double the life of your system.
The Importance Of Duct Cleaning
It is not uncommon for duct cleaning to be at the bottom of a homeowners maintenance list. Ducts are out of sight and often out of mind, however, they are the lungs of your home. If you feel like the airflow in your home is not as good as it once was, the chances are that your ducts are harbouring excess dust build up. Dust must be removed as soon as possible because build up makes it easier for even more dust to settle inside your system, disturbing airflow further.
Bacteria, mould and fungus can grow comfortably and spread quickly inside dirty ducts. Duct cleaning will reduce the allergens flowing through your home, thus helping your family and pets breathe easier than before. Easy breathing is important year-round, but especially during flu season when you are most at risk.
Clean ducts can also help you save on energy costs. A dust free system supports increased furnace efficiency. Maintenance of your ducted system will not only save you in the long run but also when your gas bill comes around!
When To Call In A Professional
Cleaning vents externally is simple. This part of your system should be maintained frequently. In most homes, vents will be in easily accessible areas. Vents can be dusted or wiped when dust builds up. However, having a comprehensive duct cleaning service carried out by a  professional is the key to the cleanest air and most efficient heater. A licensed technician can ensure you have the best indoor air quality while keeping you safe and helping you save on energy costs simply by keeping your ducts clean.
Why Service Today?

A licensed technician will use state of the art systems and methods including Reverse Compressed Air Technology and Vacuum and Mechanical brushing Systems. This ensures the most thorough clean.  Service Today has the process down to an art.
We start with a manual clean up of registers. Next, the ductwork is mechanically scrubbed with rotary brushes and air cleaned. Our licenced technician will then clean and replace or fit new air filter media to your system- depending on your unique needs. Finally, a commercial vacuum is used to push a high-pressure air cleaning head into the ducts and remove impurities.
This process will leave your heater with incredibly clean ductwork! If your home is in need of a duct clean, call Service Today NOW.  Contact us anytime to make an appointment or book online!
The beginning of Winter is the perfect time for a system clean up so don't wait!